Young and old love coming to stay at Elterwater and we are close to some of the best activities for families that the Lake District has to offer.
Here's our top tips for all the family.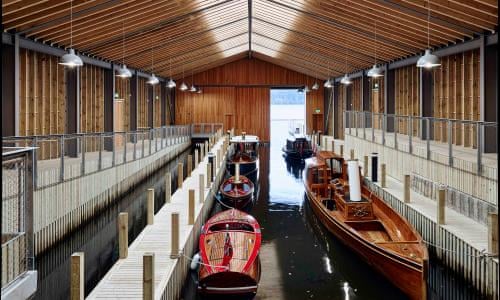 1. The newly opened Windermere Jetty museum of boats, steam and stories has enough to keep youngsters occupied for a whole day. There are interactive galleries to take you on an imaginary journey , including a wall of wonder,covered floor to ceiling with boating paraphernalia, equipment and curiosities. But there's also the chance to experience a real journey on a heritage boat trip aboard Osprey, one of the fully-restored Edwardian steam launches. Osprey was built in 1902 in Bowness and is the first steam launch to take to the water at Windermere Jetty. Better still for children (and adults) who love the stories of Arthur Ransome, you can see Esperance, one of boats that inspired Captain Flint's houseboat in Arthur Ransome's Swallows and Amazons. And there's a rowing boat that belonged to Beatrix Potter.
2.Tree Top Trek. This high level ropes adventure experience for the over-7s is at Brockhole, the Lake District national park centre on the shore of Windermere south of Ambleside. Children aged 7-11 must be supervised by an adult; if there are youngsters aged 12-15, an adult must remain on the site. Now there's also the Mini treetop trek for lower level adventure with 16 obstacles and a long zip wire. For the very young also new is Tree Top Nets with giant bouncy nets, slides, tunnels and ball zones.
https://www.treetoptrek.co.uk/windermere
3. One for a rainy day is the World of Beatrix Potter attraction in Bowness with the best      website address ever: https://www.hop-skip-jump.com/.  It's a charming and artfully-designed  tour through scenes from the Peter Rabbit stories .The Beatrix Potter™ experience begins with a five-minute film introducing you to the author and her stories and illustrations. The doors from the film room open to the main exhibition in which the sights and sounds of Beatrix Potter's much loved characters are magically brought to life.
The acclaimed musical Where is Peter Rabbit? will be staged in the theatre in the same building daily throughout the summer from June 22 to Sept 1. https://www.hop-skip-jump.com/peter-rabbit-theatre/
4: Grizedale Forest Park. Lying between Hawkshead and Coniston, this beautiful forest is a real adventure playground. There are sculpture trails to follow, mountain bikes to hire, and lots of activities for young children, include the nature detectives progammes. Children from toddlers to teens are encouraged to get muddy, tackle den building, track caterpillars or make artwork from conkers. It's managed by the Woodland Trust, the UK's largest conservation charity. http://www.woodlandtrust.org.uk/visiting-woods/wood/11274/grizedale-forest-park/
5: How about an adventure that doesn't cost you anything, apart from decent boots and a waterproof "just in case"? The area around our hostel in the Langdale valley is a priceless playground for children of all ages – and that includes the ones who are still kids at heart. There are caves to be explored, small mountains to climb, lakes and becks to paddle in, and wildlife to be spotted. Talk to our staff when you come to stay. They are truly the local experts and they will help you plan the very best of Lakeland adventures.